Aquaticum Debrecen Strand opened in summer 2020. The idea behind the reconstruction of the old baths was not only to design new and modern pools and pleasure elements but to create a new aquapark that in every way relates to Debrecen and the surrounding Nagyerdei park forest. The new baths complex was designed as such in which waving water surfaces, spectacular waterfalls, live green walls and mysterious veils of water reflect the trees of the surrounding Nagyerdő (Great Forest).
The 8.5-acre facility has built 15 pools with 5,500 square feet of water, 8 slides, 12-foot sun terraces, and a separate 1,900-square-foot children's world. The complex includes, among other things, a spa pool, a mildly drifting "slow river", a 200-square-meter plunge pool, a glass-bottomed relaxation pool (on top of the main building), and a 50- and 30-meter swimming pool and training pool.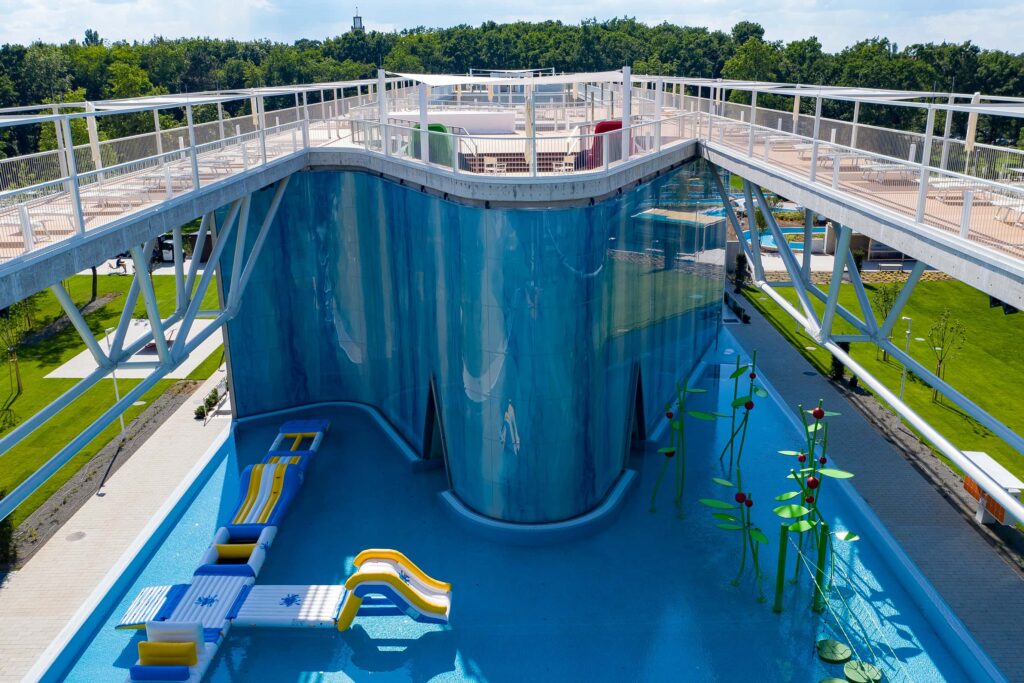 Restaurants and cafes await the guests along the strand promenade, and of course one of the most beautiful urban parks in Europe with further recreational opportunities.
4032 Debrecen, Nagyerdei park 1.
Tel.: +36 52 514-174
E-mail:  spa@aquaticum.hu
Web:  www.aquaticum.hu