Debrecen's new Aquaticum Strand Water Park has been featured on the cover of the Royal Institute of British Architects, the UK's largest architectural magazine by circulation. In the article, which is available in both print and online, the author, Isabelle Priest referred to the water park as a 'mega fun' place, – a place full of wild experiences.
The Strand Water Park was handed over in the summer of 2020 during the COVID19 pandemic, and yet despite this, the park visitor numbers wildly exceeded expectations as Hungarians stayed in country, holidaying locally, due to the global pandemic.
In reference to the park, Mayor László Papp said that the city management strives to preserve its architectural heritage and values ​​in Debrecen, but at the same time, enrich it with timeless architectural solutions.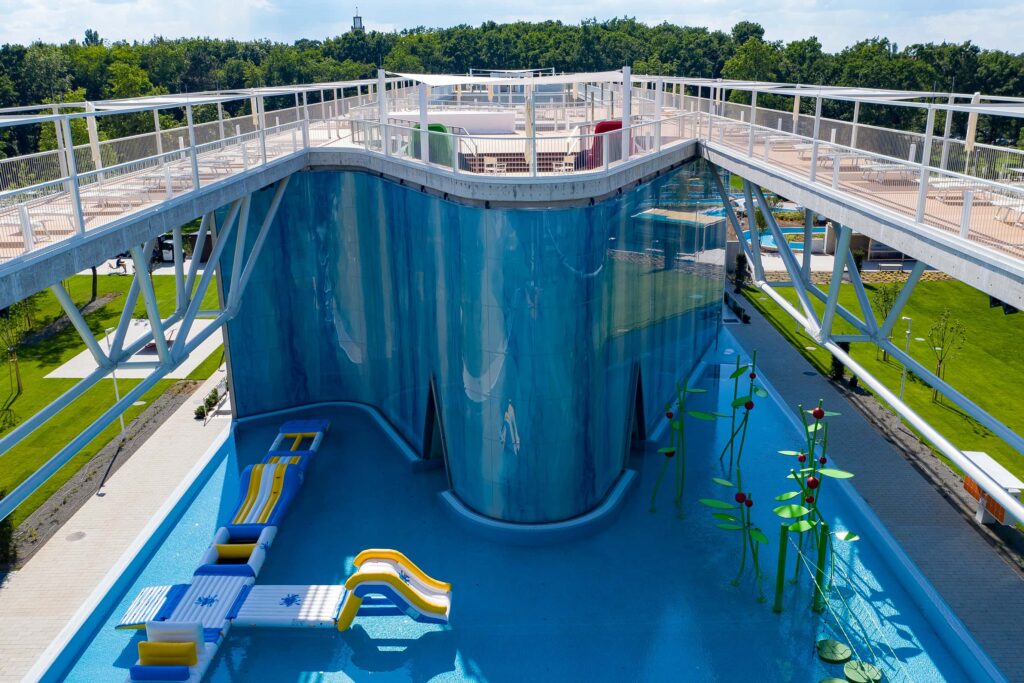 In her article, Priest firstly presents the Hungarian spa culture and spas, and then discusses the history and significance of Debrecen and its recent investments.
The article is based upon an interview with Peter Bordás, a BORD Architectural Studio Director. Péter Bordás said that the park is located in a Natura2000 nature reserve, so it could not be enlarged beyond its original size in the 1930s, and also detailed the concept of why they wanted an "boxed oasis". to be created here, thanks to which 12-meter-high blue stained-glass walls were added to imitate waterfalls and how the huge green plant walls facing them came about.
In the article, Bordás pointed out that it was also an important decision in the design, that no tree was cut down in creating the new layout, so its largest pool remained in its original location.
The author then presents the beach in detail, drawing parallels against other buildings and architects.
Source 1: Octogon.hu
Source 2: Royal Institute of British Architects